This giveaway is now closed.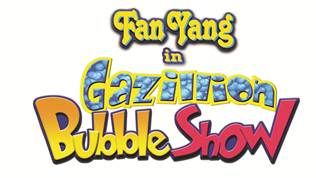 New York, NY – August 9, 2011 – Five-time Tony Award®-winning producer, Jon B. Platt (Wicked, The Book of Mormon), announces the first ever North American tour of Gazillion Bubble Show, starring its creator and international sensation Fan Yang.
This world renowned, brilliant and unique theatrical experience will delight audiences of all ages, transforming a multitude of beautiful bubbles into a thrilling, interactive, multi-million dollar spectacular. Audiences and critics will be wowed by bouncing bubbles, floating bubbles, misty, tiny and massive bubbles as they experience the world's first live "snow globe" when millions of tiny bubbles fill the stage. Absolutely nothing compares to the feeling of standing inside a Fan Yang giant bubble creation. Fan Yang's extraordinary bubble masterpieces illuminated by his spellbinding laser magic will dazzle theatre-goers aged 2 to102.
"We are excited to bring the extraordinary talent of Fan Yang to audiences across the country," said producer Jon B. Platt. "Fan's talent is unmatched and his beautiful and brilliant creations for all audiences are unlike anything that has ever been seen before. The future of live entertainment is here, and it's Fan Yang!"
Gazillion Bubble Show was conceived by its star and international phenomenon, Fan Yang. Over the past two decades he has sold out performances and earned critical and audience acclaim in Germany, France, Spain, Vietnam, Singapore and many other countries around the globe. Fan's ingenious creations and dedication to the pursuit of his craft have brought to life an utterly unique art form. Fan Yang currently holds 17 Guinness World Records; most recently for having put 108 people inside a single bubble. His performances have been broadcast worldwide on television, including "Oprah,' "Ellen," "Late Night with David Letterman," "The View," and many more.
For more info on Gazillion Bubble Show, go to www.gazillionbubbleshow.com.
For updates and more, follow on Facebook at www.facebook.com/bubbleshow
Gazillion Bubble Show 2011 Tour Dates will include the following:
Sept. 30-Oct 2 Providence, RI Providence Performing Arts Center
Oct. 5 Orono, ME Collins Center for the Arts
Oct. 6 Portland, ME Merrill Auditorium
Oct. 7 – 8 Schenectady, NY Proctor's Theater
Oct. 9 Hartford, CT Bushnell Performing Arts Center
Oct. 14-16 Detroit, MI Fisher Theater
Oct. 21-22 Hershey, PA Hershey Theater
Nov. 5-6 Philadelphia, PA Merriam Theater
Nov. 18-19 Spartanburg, SC Memorial Auditorium
Nov. 20 Morganton, NC Municipal Auditorium
Dec. 3-4 Tampa, FL Morsani Hall
Dec. 7-11 Boston, MA Wang Theater
Dec. 28-31 Toronto, ONT Canon Theater
Jan. 17, 2012 Macon, GA Grand Opera House
Jan. 21, 2012 Toledo, OH Stranahan Theater
Jan. 29, 2012 Merrillville, IN Star Plaza Theater
Feb. 3-4, 2012 Denver, CO Buell Theater
Feb. 10-12, 2012 Seattle, WA Moore Theater
Feb. 29, 2012 Thousand Oaks, CA Fred Kavli Theater
March 2-3, 2012 Mesa, AZ Mesa Arts Center
April 1, 2012 Charlotte, NC Belk Theater
Go here for complete tour dates and ticket buying links.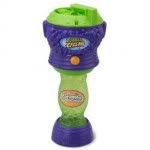 To celebrate the kick off of this fun tour The Gazillion Bubble Show would like to send one Five Dollar Shake reader a Bubble Cyclone! To be entered simply leave a comment saying who you would like to win the Bubble Tornado for. One winner will be chosen and contacted by email on September 28, 2011.
For additional entries please leave a separate comment after doing any or all of the following:
Subscribe to Five Dollar Shake in a reader or by email.
Follow Five Dollar Shake on Networked Blogs.
Share this giveaway on any social network.
Stumble or Digg this giveaway.
Free product will be received the purpose of writing this blog post. No type of monetary compensation will be received.