The next installment from the Bloody Disgusting Selects series – Exit Humanity, is heading to DVD, Video on Demand and Digital Download (iTunes/Amazon/XBOX/Playstation) on June 19th! Exit Humanity explores the struggle of one man in a zombie infested America just 10 years after the American-Civil War.
"In the aftermath of the Civil War an unexplained outbreak of the walking dead claims the life of Edward Young's wife while his son disappears. This sets him off on a harrowing journey into the plagued countryside. Facing off challenges not just from the ferocious undead but also from the living, will Edward find an exit to the grotesque caricature of what humanity has become? The War might be over but the fight has just begun."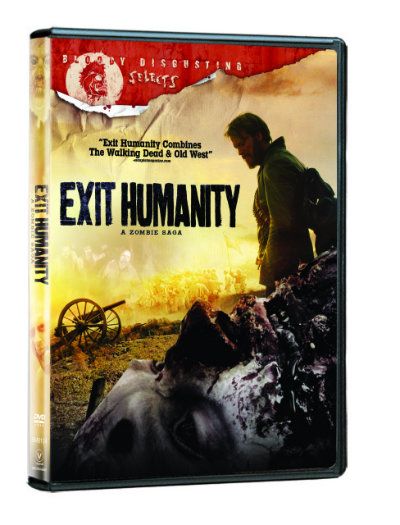 Review:
Thank you for offering me this opportunity to review this movie. I have to admit, had I seen this movie sitting on the shelf at a store, I probably wouldn't have picked it up based on the cover. At first glance it looks like a "b film" with a low budget and bad acting. I was pleasantly surprised that the "b" in this film stands for brillant! I am a huge fan of all things zombie and this movie has just been added to the top of my list. It's the first zombie film I have seen that has an outstanding plot to go along with all the gore. It was very well acted, the camera shots were fabulous, and even the make up was impressive. I like that the movie is set in the 1800′s. It gives it a new and fresh twist to zombie movies. This is a movie I am proud to display in my collection.
Review by Kitchen Savvy Mom.
Toni (Kitchen Savvy mom) is a wife and mother to four beautiful children. She also works full time outside of the home. Can we say busy!? Toni has a real passion for being in the kitchen. She enjoys cooking for and with her family, and she does it well! Be sure to like Kitchen Savvy Mom on Facebook and follow her on Twitter.
Giveaway:
One Five Dollar Shake reader will win a copy of Exit Humanity on DVD. Enter to win by using the Rafflecopter widget below.
The Collective, a full-service entertainment management and content company, along with leading theatrical and distribution company AMC Theatres (AMC), and #1 Horror website BloodyDisgusting.com, have partnered to acquire and distribute the best new horror and thriller titles from the festival and international markets to AMC theatres across America.
Films from the series are available to fans of the genre in DVD, Video on Demand (VOD), online and television. Released though The Collective's home-video partnership with Vivendi Universal, DVDs for titles in the Bloody Disgusting series will feature unrated content, bonus features and special packaging for each title. Also available from the series are RAMMBOCK: BERLIN UNDEAD, YELLOWBRICKROAD, COLD FISH, PHASE 7, ATROCIOUS and CHOP.