My family was recently invited to Ghostly Manor Thrill Center for a blogger event put together by Lake Erie Shores & Islands Welcome Center-East.
Ghostly Manor is family owned and managed which we love! It's located in Sadusky, Ohio, where my family vacations often. It's not too far of a drive for us, but still a nice distance to really getaway. If you've been to Sandusky but have never stopped in at Ghostly Manor, you are really missing out! There is all kinds of family fun inside. None of which is weather dependent, so it's a fun place to visit year round.
There is a reason Ghostly Manor is called a "Thrill center", check out this exciting list of family activities that are found inside.
Bounce houses
Wizard's Journey: glow in the dark mini golf
Arcade
XD 4D Motion Theater
Concessions
Skateworld roller skating
Ghostly Manor Haunted House!
Needless to say we had a blast! We really enjoyed the Wizard's Journey: glow in the dark mini golf, and the XD 4D movie theater. And plenty of concessions. If thrills are what you seek, I hear the Ghostly Manor Haunted House is a must. My girls (13 & 25) were brave enough to go through it and loved it. They tried to get me in, but I knew better from previous experience. I'm a chicken!
"Ghostly Manor – Walk through haunted house; ranked as one of the top ten year round haunted attractions by DAFE.org and Rand McNally's Top Ten Haunted Houses for Halloween http://ontheroad.bestoftheroad.com/2010/10/22/top-10-haunted-houses-for-halloween/"

Skateworld roller skating, (photoed below) was a big highlight of the day for us. Ghostly manor has a full size rink, and plays some great music. It was hard to get my girls off the rink when it was time to go.
Ghostly Manor Thrill Center, is just a great time – filled with fun family activities for all ages. Being a family that loves all things tech, this was a great chance to get out and get active together. This is definitely a place we're planning to return to during our next visit to Sandusky. Check out Ghostly Manor's surprising low prices!
Click above image above to enlarge.
Did I mention the outside dragon? How cool is this? I heard there are times he actually blows smoke!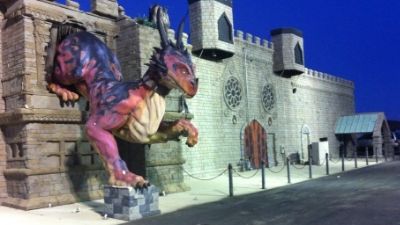 For more information visit the official Ghostly Manor Thrill Center website, Facebook page and be sure to follow on Twitter. Ghostly Manor is also a great place to plan a party!
Disclosure: My family was invited as part of a blogger group. We received free dinner, and access to all of the activities. Opinions expressed are still honest and my own.